On January 13, the World Wildlife Fund (WWF) turned to Svetlana Radionova with a request to organize an investigation of the situation around the abandoned ship Grigory Lovtsov. According to satellite monitoring conducted by WWF Russia, the ship is drifting near the Shantar Islands National Park and may cause damage to the marine environment

On January 4 in the Sea of Okhotsk, the cargo ship "Grigory Lovtsov" got into severe ice conditions and gave a distress signal, requesting assistance in evacuating the crew.



The ship was in the area of the Shantar Islands, 20 kilometers far from the coast. The distress signal was received at 13:10 Moscow. There were eight people on the ship.



The cargo ship got stuck near Bird Island, where the air temperature was about -20-25 degrees. The team had to be evacuated due to ice formation and the threat of damage to the hull of Grigory Lovtsov. Rescue helicopter reached the sinking ship at night. At 8:00 o'clock on January 5, the crew set foot on solid ground.

Abandoned ship "Grigory Lovtsov" continued to drift in the ice field in the W-NW direction, the AIS signal transmitter turned off on January 7 (7-01-2022 04:57:25 UTC, 54.613N, 138.262E, heading 0, speed 1.2 m .nodes).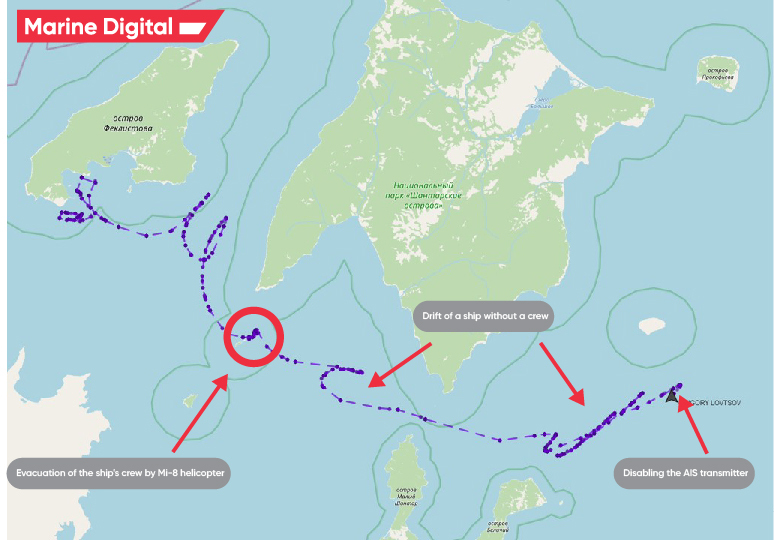 There is no reliable information about the purpose, the destination of the ship's voyage, the amount of fuel available onboard the ship in open sources. Data on the cargo onboard the vessel and information on the damage received by the vessel are also not available in open sources. From December 16, 2021, the ship sailed along the coast of Sakhalin, rounding the Schmidt Peninsula, passed through the Sea of Okhotsk along the northern edge of ice formation to the coast of the Khabarovsk Territory opposite the Shantar Islands. This was probably the port of destination for this voyage. After that, the ship hit the ice field south of Feklistov and Big Shantar Islands. Probably, several unsuccessful attempts were made to break into the area of discharged ice, the ship was trapped in dense ice and the captain gave a distress signal. It can be assumed that the current situation was the result of insufficient consideration of hydrometeorological forecasts when planning marine operations.




The cargo ship "Grigory Lovtsov" was built in Japan in 2002. Overall dimensions: length 36.54 meters, width: 9.40 meters, side height 3.42 meters, engine type: one (1) / 1x735kW.

It flies under the Russian flag and is registered in Korsakov. Accommodates 81 people.

Source: wwf.ru



Read more about TOP 10 Largest shipping companies with bulk carriers